Instant Tool And Plant Hire
Floor Sanding Guide
Are you looking to give your wooden floors a new lease of life in Stoke on Trent? You can transform your wooden flooring at a fraction of the price compared to replacing them! Transforming your dull, tired wooden floors or decking in to beautiful, shiny and healthy looking flooring.
Follow our handy go-to guide to transform your tired, aged or discolored floorboards. Based in Newcastle-Under-Lyme and Crewe we are leaders in high quality tool hire at affordable prices in Staffordshire, Cheshire and the surrounding areas!
Checklist
Sanding Sheets, Sanding Discs and Dust Bags (Don't worry if your not sure on how many you will need, we sell on a sale and return basis so any you don't use just bring back for a full refund)
Large Flat Head Screwdriver
Protective Equipment, we can supply goggles, ear defenders, dust masks and gloves all available from our store in Newcastle-Under-Lyme, Staffordshire.
Preparation
Preparation is key in any job if you want that professional finish. Ensuring your room is cleared of fittings and furniture and removing any nails or old floor coverings is essential.
Ensure you have vacuumed thoroughly so you have a clean surface to work on.
Block up all doorways to prevent dust escaping throughout the house, and open all windows for good ventilation.
Applying The Sanding Sheets (Drum Sander)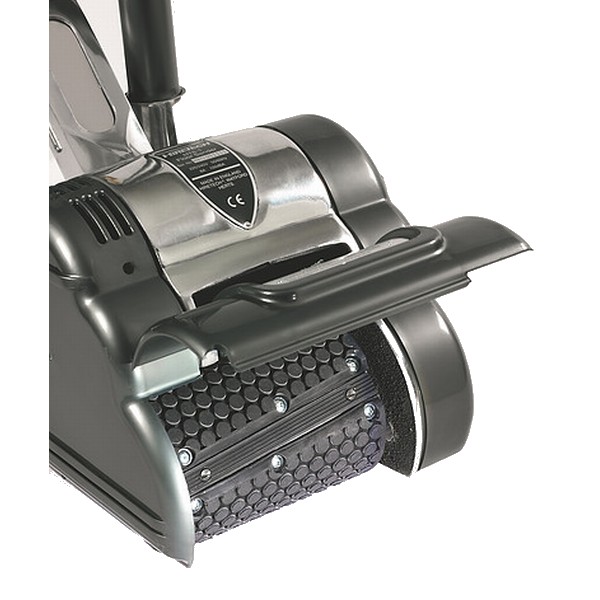 With the floor sander switched off tilt the sander back on to the floor, lift the front flap and loosen the screws on the sanding drum's gripper bar using a large flat head screwdriver.
Push one end of the sanding sheet under the gripper bar and rotate the drum by hand until you can fit the other end of the sheet under the gripper bar as well. Pull the sheet tight against the drum and re-tighten the screws on the gripper bar. (Ensure you re-tighten the screws as tight as possible. This will prevent the sanding sheet from ripping off.)
Check the drum is able to move freely before you begin sanding your floors.
Applying The Sanding Sheets (Edging Sander)
With the edging sander switched off turn the machine upside down and unscrew the centre bolt.
Place the disc on the machine and then place the bolt through the centre of the disc and re-tighten making sure the disc is correctly centered.
Tips
Always ensure you sand in the direction the boards are laid with the wood grain.
Always make sure you sand in the direction of the main source of natural light. If there is no natural light, sand in the direction of the longest side of the room.